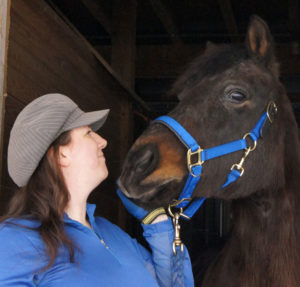 I'm Liz, and I'm an artist who loves to draw horses. I spent my childhood reading every horse book in the local library and drawing horses when I wasn't reading about them. Circumstances made my pony dreams impossible, however, and by the time I got to college, I had long given up on my horse dreams.
When I turned 30, a little Morgan mare named Glory suddenly and randomly came into my life. I wasn't looking for a horse, but one practically fell into my lap and my life changed forever.
One day, I was looking at an old atlas that I'd had since childhood. While trying to figure out what to do with this atlas, I had the idea to draw an Arabian horse on the map of Saudi Arabia. This random idea from some unknown muse turned into my most popular series of drawings: "Horses of the World," where I illustrated horse breeds from all over the world on maps that show where the breed originates from.
My mission as an artist is to foster learning about the animals of our world, to tell the stories of how the horse has contributed to human history, and to encourage the conservation of endangered and rare breeds. I believe every piece of art should tell a story and spark a conversation. I hope you'll take a look at my art by checking out the Gallery section, and maybe buy some art in my Shop to help me support Glory as she ages. Thank you for visiting my site!