Become a Patron!
I have been participating in Equine March this year, though I only found out about it on the 5th of the month! Equine March is an art related prompt begun (as far as I can tell) by Dalgeor on DeviantArt.
Equine March is a set of prompts, one for each day of the month of March. Some of the prompts are broad, like "Cremello", "Fear", and "Joy". But some of them are more specific, such as "Buchephalus", "Marwari", and "Thestral". I haven't done all of the prompts, because I missed the first few and sometimes on the weekends I'm at the barn or busy at the art co-op and don't have the time or energy to draw, but the ones that I have done have been so much fun and have challenged me to try new things. I wanted to share some of my favorites from this month so far here.
You can see more of these by following me on Instagram or my Facebook art page. You can also search the hashtag #equinemarch on Instagram to see more of the incredible work done by other artists this month!
Prompt #5 "Cremello"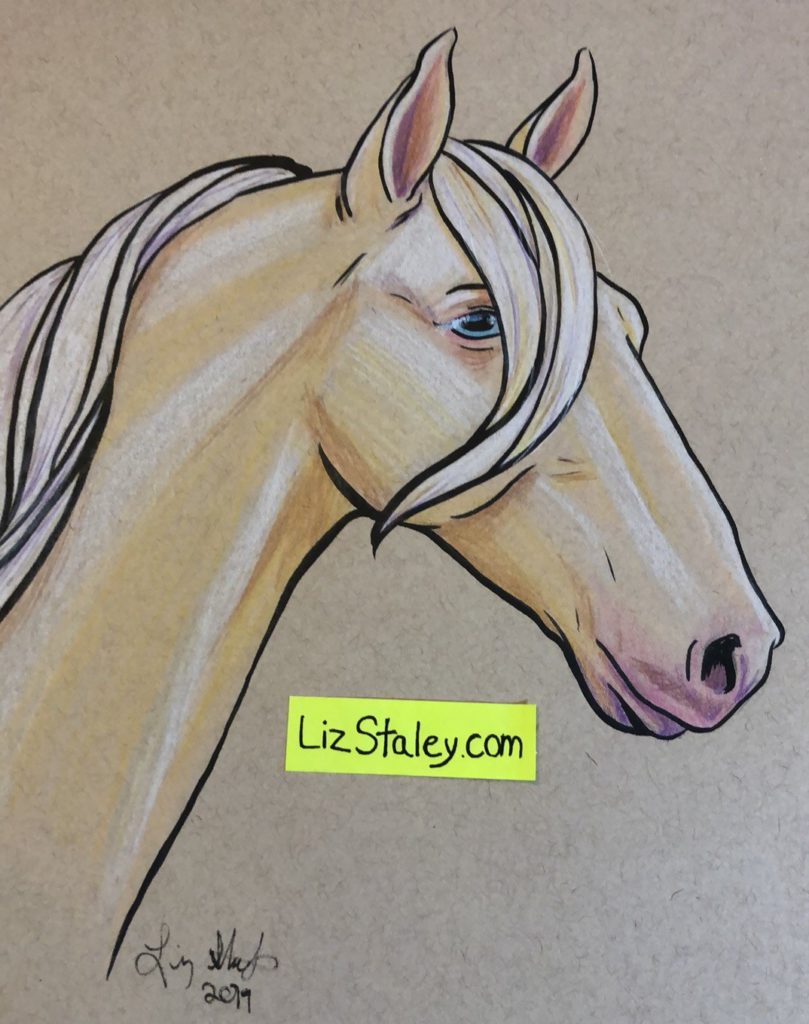 I really enjoyed drawing this beautiful Cremello horse. I haven't done this specific color before, and it was nice to challenge myself. Especially with trying to do it on the toned paper. I seriously LOVE doing horse art on toned paper, for some reason? This Cremello was drawn with ink and colored pencils.
Prompt # 9 "Fear"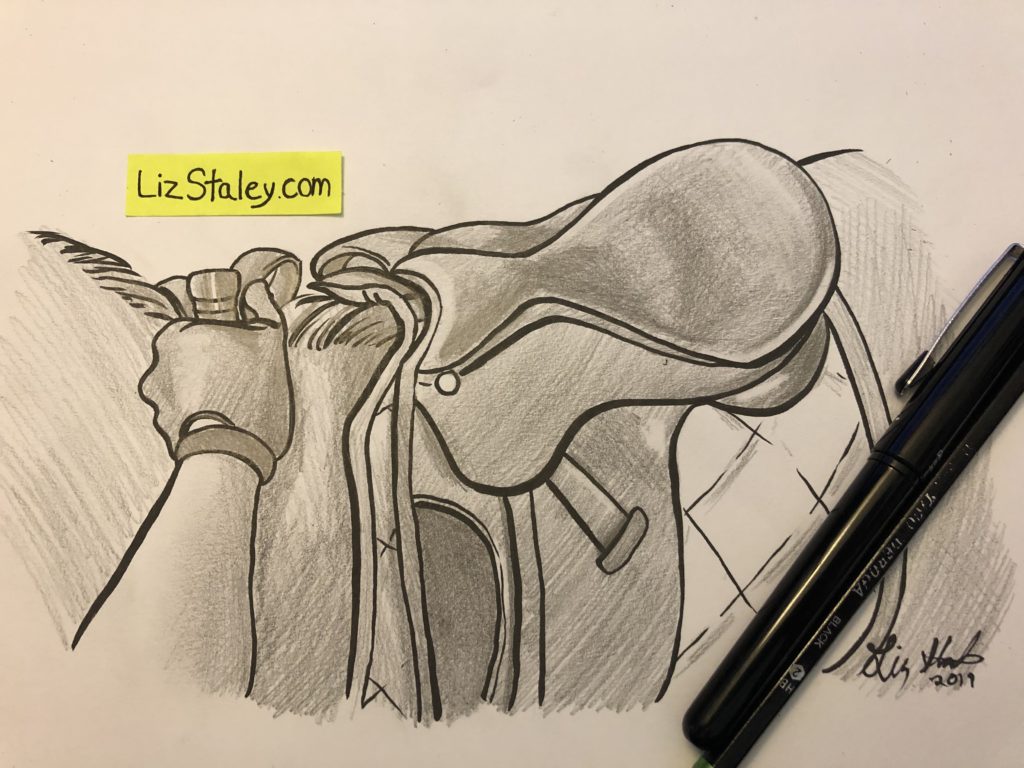 This prompt took some consideration for me to figure out what I was going to draw. I finally decided to interpret it as a fear of my own that I have worked through with riding. For years, I was scared of mounting. Getting into the saddle caused major anxiety thanks to a number of falls after horses walked away at the mounting block. The view in this drawing gave me a sinking feeling in my stomach for a long time until I worked hard to get through it. I still have unfamiliar horses held for me if at all possible, but for the horses I ride regularly I no longer need someone to hold them while I get on. I love riding, so starting every ride with intense anxiety wasn't fun and I'm so proud that now I can mount up 99% of the time without being terrified.
Prompt #12 "Thestral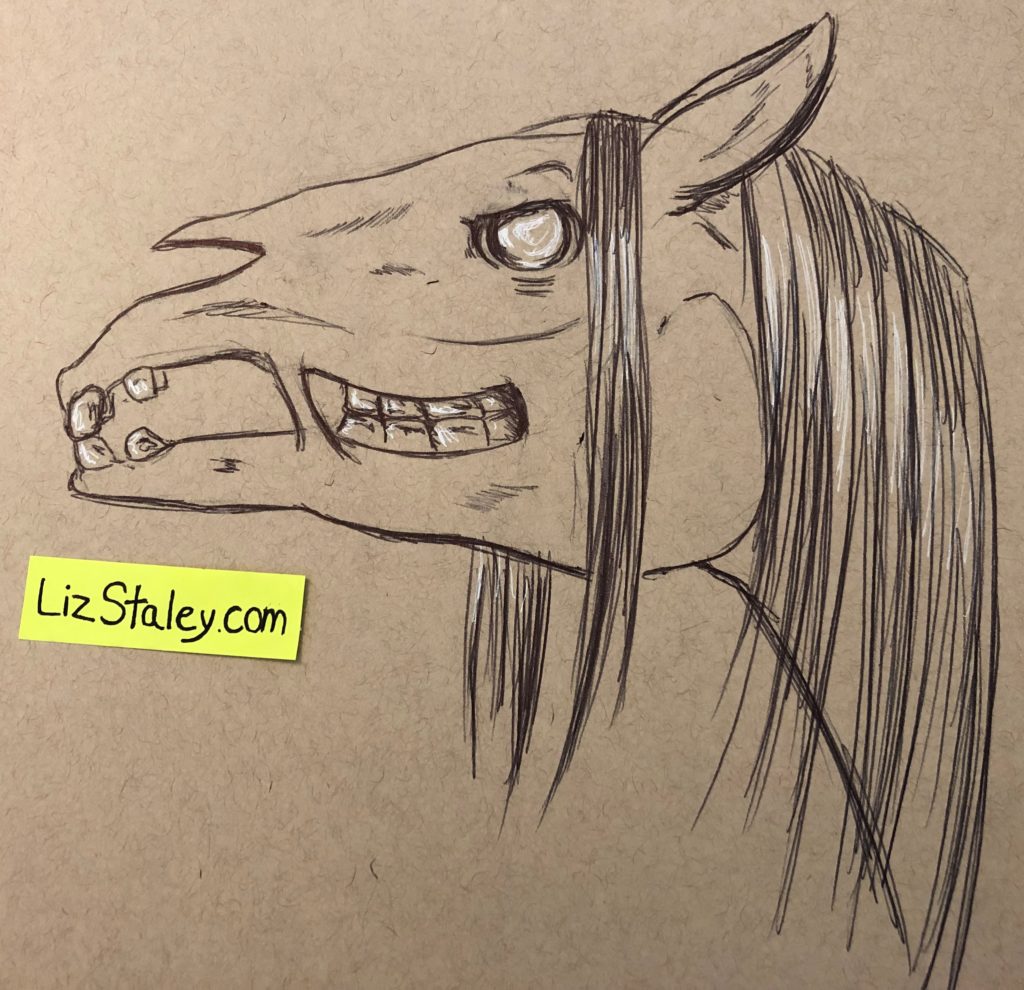 I have a strange fascination with horse skulls (see: the Mari Lwyd art I did as a Christmas/T-shirt design a few years ago). I even have a horse skull- a REAL horse skull- in my office. So it was only natural for me to decide to make this Thestral very skull-like. This was done on toned brown paper with ballpoint pen and a white Gellyroll pen for the highlights.
Prompt #18 "Marwari"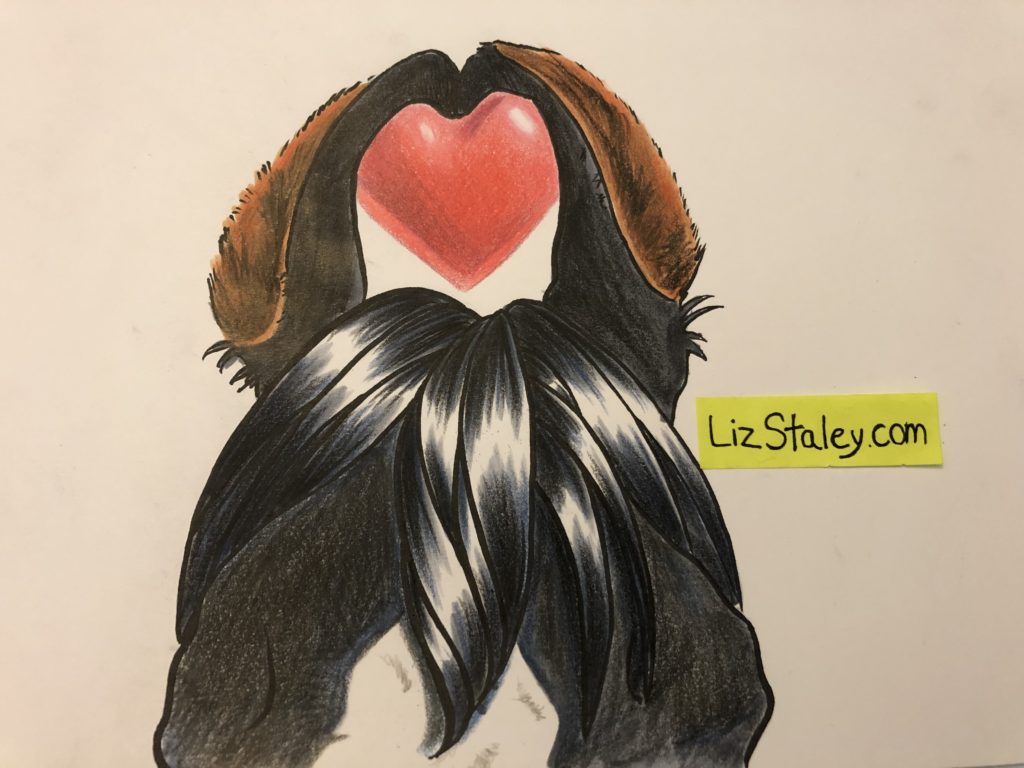 Marwari are one of my favorite horse breeds because I love their ears! Marwari ears are just the most darling things ever. I decided to create a design that would show my love for Marwari ears, and this was what I came up with. This was done on white paper with ink, alcohol markers, and colored pencils and is probably my most-liked photo on Instagram at the moment.
Prompt #22 "Capriole"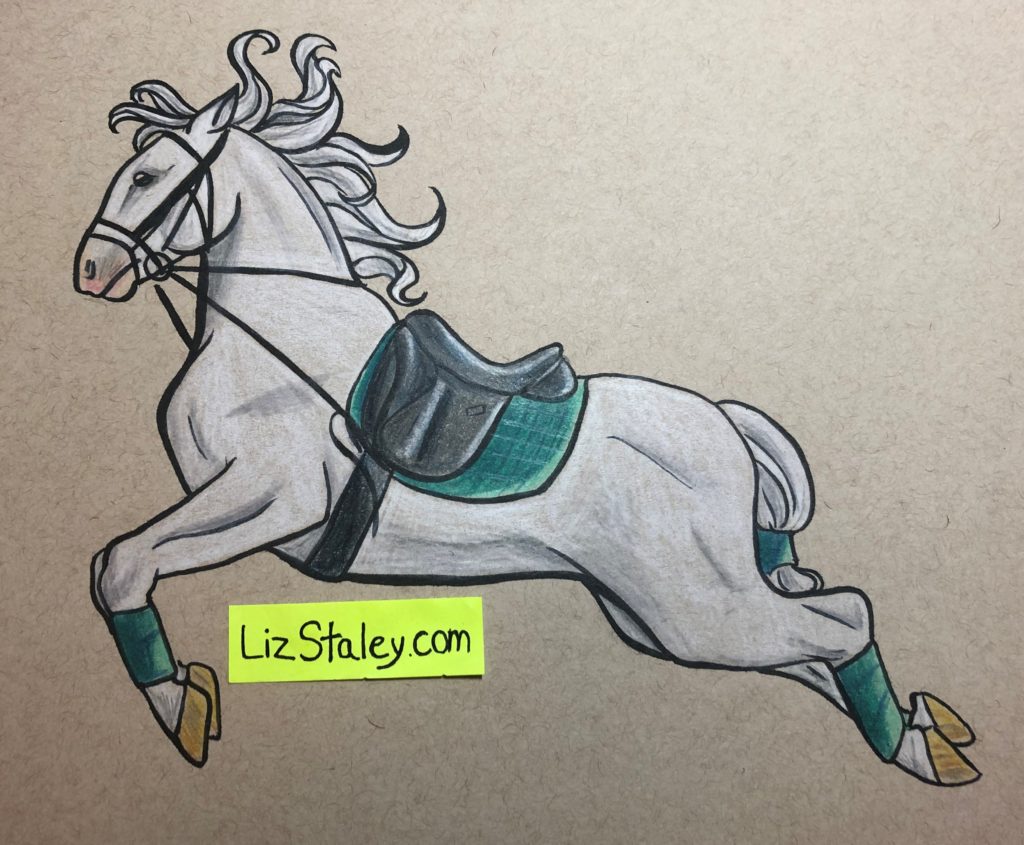 This is the first prompt that I missed doing on the day it was supposed to be done, and then I went back and did it the next day because I was so excited for this one and hated that I'd missed it. I nearly did a Capriole pose for a horse earlier in the prompt list, but then I saw that this was a prompt later in the month so I decided to hold off so I could do it on the 22nd, and then I had to go back and do it. I think it turned out so nicely though! Toned paper, ink, and colored pencils.
Become a Patron!