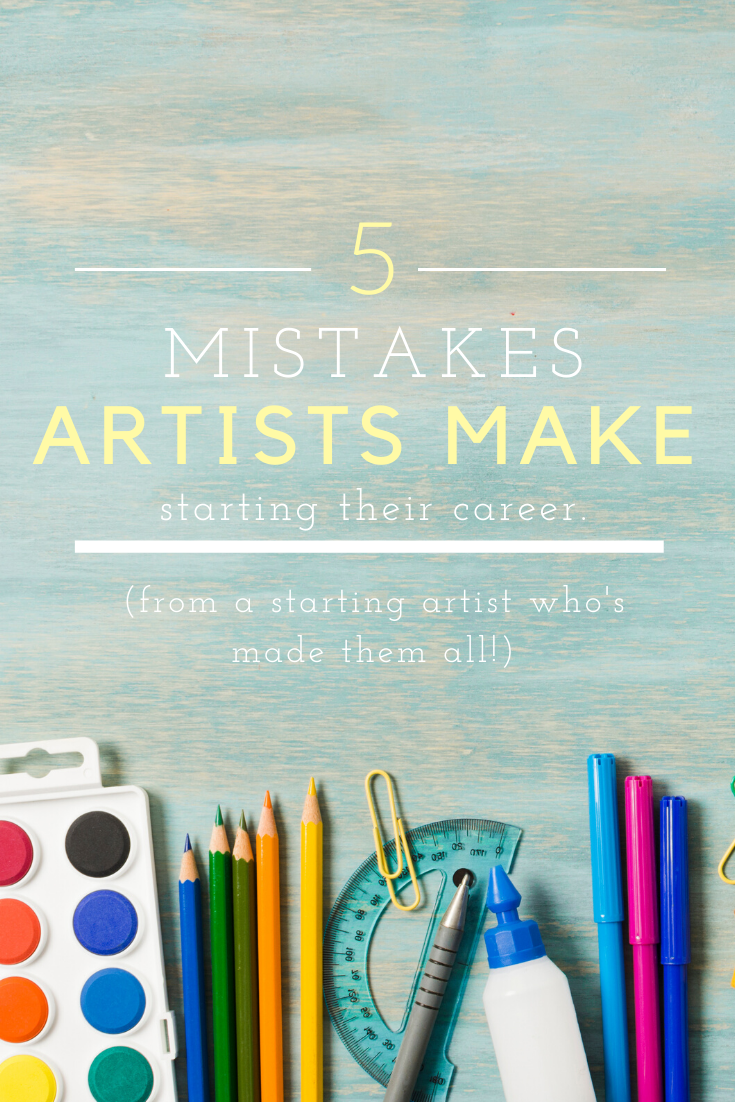 I have made a lot of mistakes when starting my art career. I'd say that I'm still in the process of really starting my art career! Or, at least, getting it to where I want it to be. Because I've been trying to really start my career, I've been doing a lot of research about how to do it and have found out there are some mistakes that are pretty common to make when starting an art business! So I wanted to share a list of five common mistakes that artists make when starting their career that I've made too.
Mistake #1: Selling Themselves Short
One of the biggest mistakes that artists make in their career is selling themselves short. I still see artists (especially in the anime and comics community, but it happens elsewhere too) who are selling their art for literal pennies. Some of these artists are hobbyists who aren't looking to make a living and I think they still shouldn't be selling their work for so low, but many of these artists are trying to make creativity their career and are making the equivalent of $2 an hour in some cases because they're selling themselves short! Your skills and your time have worth, and you must take this into account when doing your pricing. MessyEverAfter has a great post about how to price your art, complete with ranges for everyone from the art dabbler to the seasoned artist.
Mistake #2: Not Tracking Finances
I get it, looking at the numbers isn't fun for most artists. I'm the stereotypical type of artist who hates numbers. I'm still completely intimidated by looking at the money side of things. But the truth is that you MUST look at the money aspect when trying to start a business. And the earlier you start the easier it will be to keep up with. If you're trying to make a living from your art, you need to know where your expenses are and how much profit you're actually making so that you know if what you're doing is working or not! You can find Studio Expense and Income spreadsheet templates online, or if you want something a bit more detailed, I use Wave Accounting to track my income from various sources and my expenses. It's pretty easy to use and I can see where my money is going and where it's coming from. I like Wave because I can set up my bank account with it and it will automatically import my transactions, so some of the bookkeeping is done automatically for me, and I just go in and add cash sales, PayPal sales, and double-check the bookkeeping monthly to make sure everything is accurate.
Mistake #3: Not Taking Deposits for Commissions
One of the biggest mistakes that new career artists make is not taking a deposit on commissions. I've seen so many artists get burned on doing custom work! If you are going to take commissions, you MUST get a deposit before starting work. I know that seems uncomfortable for some artists! They think about what would happen if they can't complete the work or if the commission turns out poorly. Deposits are crucial though, for several reasons. First, they weed out the customers who aren't serious about commissioning you and may otherwise waste your time. Some customers are excited by the thought of commissioning an artist, but they never follow through on the money exchange. Requiring a deposit also ensures that you don't waste your time and materials on a piece that you're not going to get reimbursed for. Remember, your time is valuable! If a customer is serious about getting a commission from you, they should be willing to give a deposit. It pays you for the time you're going to spend on their art. I require a 50% deposit that is not refundable before I even put pencil to paper and begin a sketch. This ensures that my materials are paid for in case the customer vanishes on me once the piece is done.
Take a look at my commissions page for an idea of my prices and policies!
Mistake #4: Trying to Sell "What's Popular"
Another big mistake artists make when starting their career is trying to figure out what's popular. They then draw that in an attempt to cash in on that subject. I see this in both the "fine art" community and the anime and comics community. In the community of pop-culture convention artists that I'm part of, posts abound that ask "what shows are popular right now?" One of my favorite art YouTubers, Rafi Was Here Studios, talks often about how he was told to paint "beach scenes" when he began because he's based in Florida and beach scenes are popular there. Now, I'm not saying to never, ever draw or paint what's popular. However, you should create things that you are passionate about instead! If I create art of snakes because snakes are popular, but I'm not passionate about snakes, then it's probably going to show in the art and in my interactions with customers about the piece. Your passion for the subject will come across in the finished piece!
I actually made this mistake back when I was still heavily in the anime art community. I drew a lot of "chibi" characters, some from shows that were popular at the time but that I hadn't seen. Fans of those shows at my convention tables trying to talk excitedly about the characters and show to me. But I had to admit, sheepishly, that I'd never watched the show and had no idea who the characters were. It was pretty embarrassing and not something I'll be doing again!
Mistake #5: Using cheap materials
The final mistake that I see a lot of new artists making is cheaping out on their materials. I am absolutely not saying that you must go buy the most expensive materials to be a successful artist! I'm also not saying that expensive materials will make your art better. However, if you're trying to get collectors to pay a premium price for your art, but you're purchasing your materials from the Dollar Store, the art isn't going to hold up. Try to buy the best materials you can if you're doing traditional media (paint, colored pencil, pastel, etc). Try to get the best hardware and software you can afford if doing digital art. Not only will your art pieces last longer because of light-fastness and acid-free materials, but you'll save time too! When I first started my horse drawings, I used a mid-range set of beginner colored pencils from the art store. They weren't spectacular, but they weren't the cheapest pencils ever. Then I was lucky enough to get a set of Prismacolor Colored Pencils and the amount of time I've saved is crazy! Because they have more pigment and better coverage than the cheaper pencils, I can create my pieces faster. So get the best materials that you can to start out with, then upgrade as your income grows. You'll thank yourself later, and your collectors will appreciate the better materials too!
Which of these artist mistakes have you made? Or have you made some that aren't on this list? Let me know in the comments below!