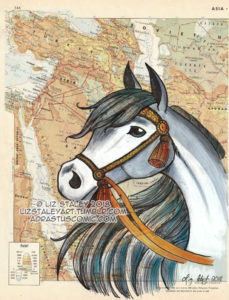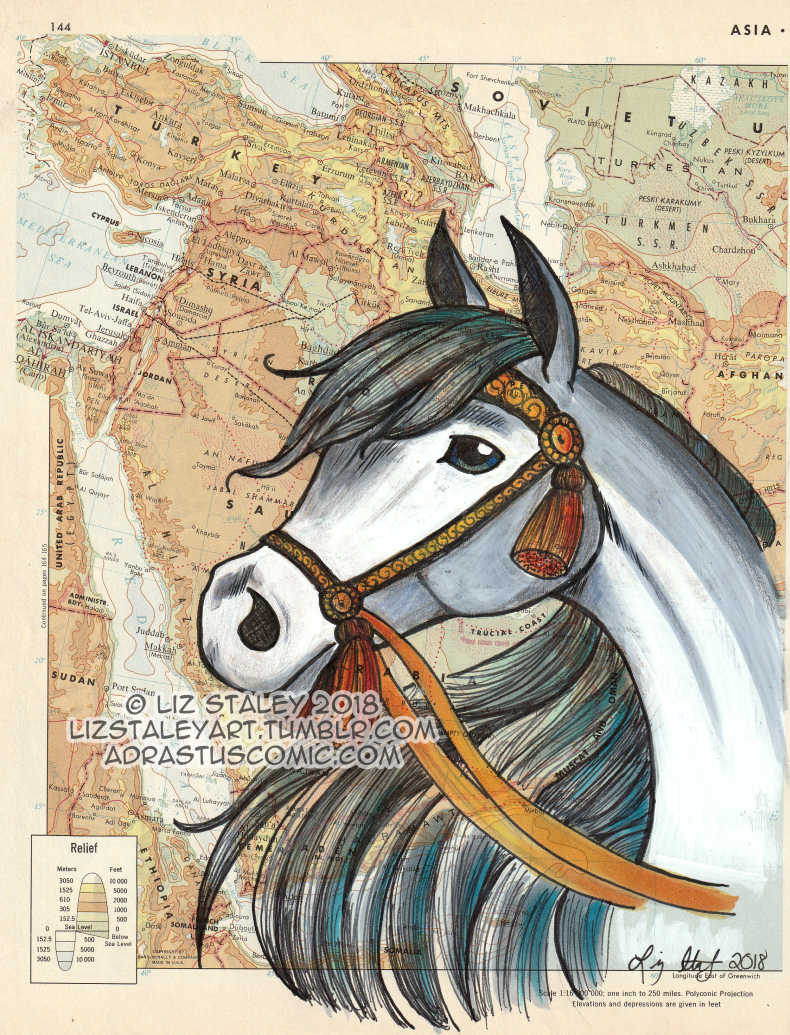 I've gotten a good bit of attention locally for my Horses Of The World series. This series of art is very special to me and is one that I really enjoy working on. As I write this blog post there are 20 completed horse breeds.
In this series, I use mixed media to attempt to tell the story of horse breeds and where they come from. Each breed of horse is drawn on a vintage map page from a page of the Goode's World Atlas by Rand McNally (11th Edition, 1960). I pick the map page to draw on based on the area of the world the horse breed originates from- so the Arabian horse, for example, is drawn on the map of Saudi Arabia. I use this as a way to tell a story about the horse breeds that we all love but may not know where they originated from in the world.
I create these pieces of art by first researching the horse breed I want to illustrate and then checking to make sure I have a corresponding map page. The first eighteen horses in the series were sketched directly onto the map pages, but recently I have started sketching on plain paper and then transferring the sketch to the map via a lightbox instead because sometimes it's difficult to see the sketch overtop of the map lines, especially on particularly busy maps, and I have a difficult time with the inking process. Once the sketch is complete, the drawing is inked with waterproof and alcohol marker proof Copic Multiliner brush pens. The inked lines are allowed to dry for a while and then the coloring process begins!
Coloring occurs directly on the original map. I use a variety of materials to add the color to the horse drawings. White/gray horses get a light coat of white acrylic paint as a base, usually from a white paint pen. Darker colored horses get large areas filled in with alcohol markers (Copic or Spectrum Noir, I have both kinds). Then additional shading, highlighting, and details are added with colored pencils. Horses who had paint used on them have any lines that were painted over touched back up with the same inking pens as before since the paint tends to wash the ink lines out when it goes over them and I like for the inking lines to be bold and dark!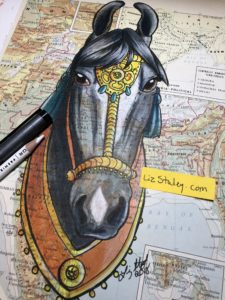 This series of drawings is very important to me. I have loved horses ever since I was very young, but I grew up in Baltimore, Maryland and there was nowhere around for a young girl from a middle-class family to do anything with horses. I remember pony rides at various events on occasion, probably especially at the Maryland Renaissance Fair, and one of my cousins had horses on their farm when we were younger so at Easter and Christmas we would sometimes get pony rides there as well. But I never had the opportunity to actually learn to ride, or to have a horse of my own. So instead of being around horses in physical space, I was with them mentally. I read every book on horses at my local library, and read every book with horses in it that I could find at thrift stores or flea markets. Horses were the first subject that I could draw fairly well. I remember having a How To Draw Horses book that I studied almost religiously. I would doodle horse heads on everything. I couldn't be around horses in real life, so I was with them in my mind and in my art.
Eventually, as I grew older, I gave up on the dream of ever actually being around horses, or owning one, or riding them. But I still would stare at a field of horses as we drove past, or watch horses in movies, or make sure my character had a horse in a role-playing game. All of that changed when I turned 30. I had just quit my day job to make a go at being self-employed, and I was looking for some sort of volunteer opportunity. I had been collecting My Little Pony figures over the past few years and decided that I wanted to find something horse related. I stumbled across a local riding school looking for volunteers to help with their summer camp, and no experience was needed!
I volunteered and that was the beginning of horse madness. Through all of this, a friend I had who owned a horse realized that I liked horses. Two years later, her horse became my horse. Glory and I have been together for five years now and she is my constant muse and source of stress relief. I wouldn't trade her for anything!