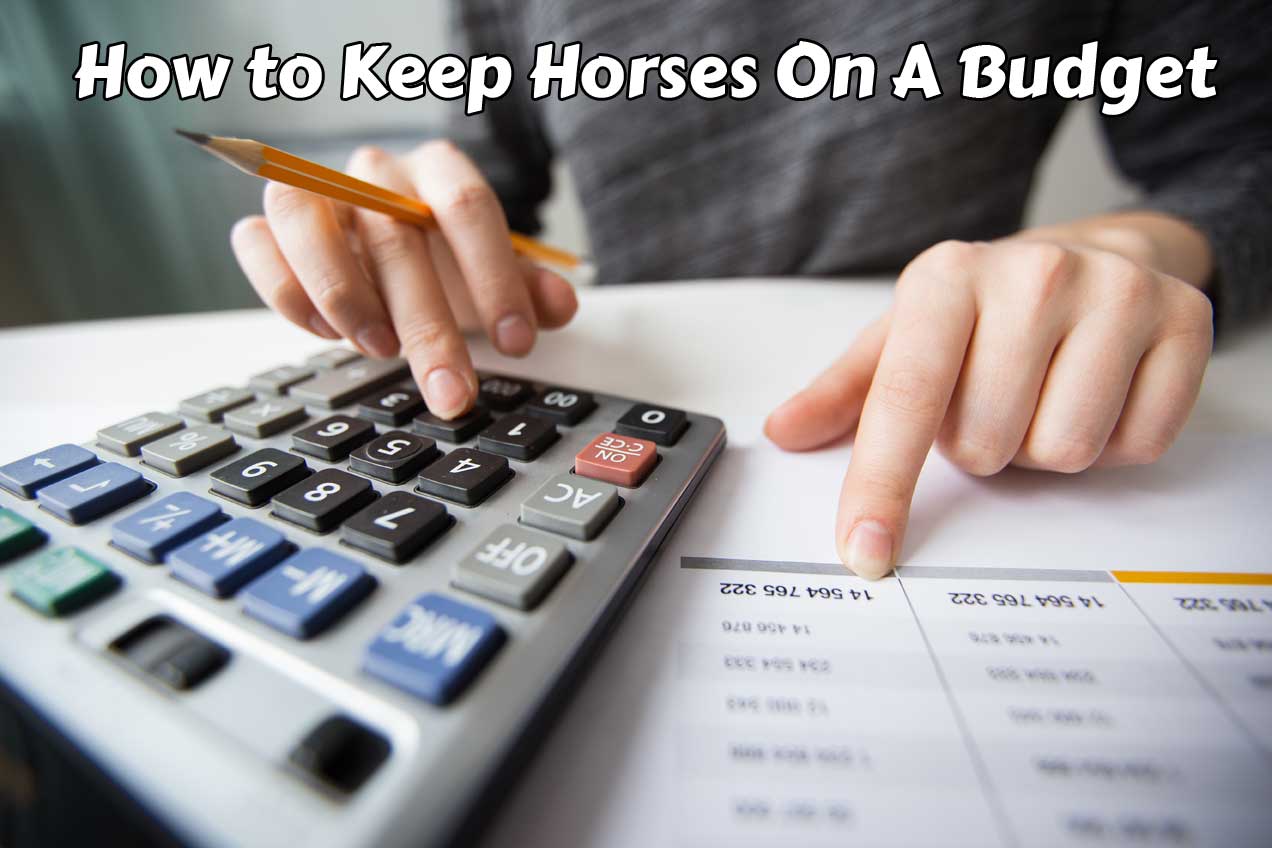 Let's be real for a minute: having almost any type of pet can get expensive. But make that pet several hundred pounds and the costs just go up exponentially. Anything with the word "horse" in the title or a picture of a horse on it can cost more than double the same item that isn't marketed to horse owners. I don't make a lot of money, but have still managed to find ways to have a horse and enjoy her without spending tons of cash. It takes some planning and careful shopping, but it can be done! Here are some tips to cut your horse expenses.
Disclaimer: Check with a veterinarian or a trusted professional before making choices about horse feed, supplements, or other nutritional needs for your horse. Each horse is different, with different needs and workloads. The following is general advice and not meant to diagnose any specific need for your personal horse!
Get a PPE before buying your horse.
If you don't have a horse yet and are looking to buy one, make sure that you get a vet out to do a pre-purchase exam on any horse you are seriously considering. I don't care how much you love that big, young Chestnut gelding at the rescue, without a PPE you may take him home and find out two years later that he has a terrible case of kissing spine because you didn't get x-rays and a vet exam before adopting! If you already have a trainer you trust, take them with you horse shopping to get a second opinion. If you don't have a trainer, find one with a good reputation and get their opinion before buying. It may seem silly to spend money on a vet exam for a horse you may not buy, but it could save you lots of grief and expense in the long run by catching potential problems before you're the one responsible for thousands and thousands of dollars in vet care.
Self-care board or exchange board for chores or other goods.
Keeping a horse at home is the cheapest and easiest option for owning one, but sometimes having a horse in your backyard just isn't possible. When searching for a boarding barn, see if you can do self-care (if allowed!) for a discount or if you can help out with barn chores or by trading some other service or goods for some of your board price. (For instance, if you're handy with tools you can offer to repair fences or do other tasks around the facility!) Self-care only makes sense if you can afford the gas and time to come out every day, possibly multiple times a day, so be sure to figure that into your planning before committing to it. My best friend and I currently self-care at her parents' farm, and we take turns coming out to feed the horses and change blankets so that all the running around isn't just on one of us.
Feed the best quality forage you can afford.
Barring medical issues such as Cushing's, most horses will do just fine on a steady diet of quality grass. Hay is cheapest in the summer when grass is plentiful, so buy as much hay as you can store during the growing season. Buy the best quality hay you can afford, and feed from hay nets or feeders that are up off the floor to minimize wastage. Just remember that horses are designed to eat from the ground, so try not to feed their hay TOO high. And if using hay nets, hang them high enough off the ground so that your horse won't get a foot stuck in it!
Don't overfeed grain and concentrates.
Horses are designed to forage most of the day, not eat big meals all at once. If you are going to supplement with a feed, make sure that it's appropriate for your horse's needs and that you aren't overfeeding grain and skimping on hay. Feed, supplements, and concentrates can add up quickly, so unless your horse needs "extras", feed more hay than grains. Never feed horses any food that is for cattle, as it can contain ingredients that are dangerous to horses!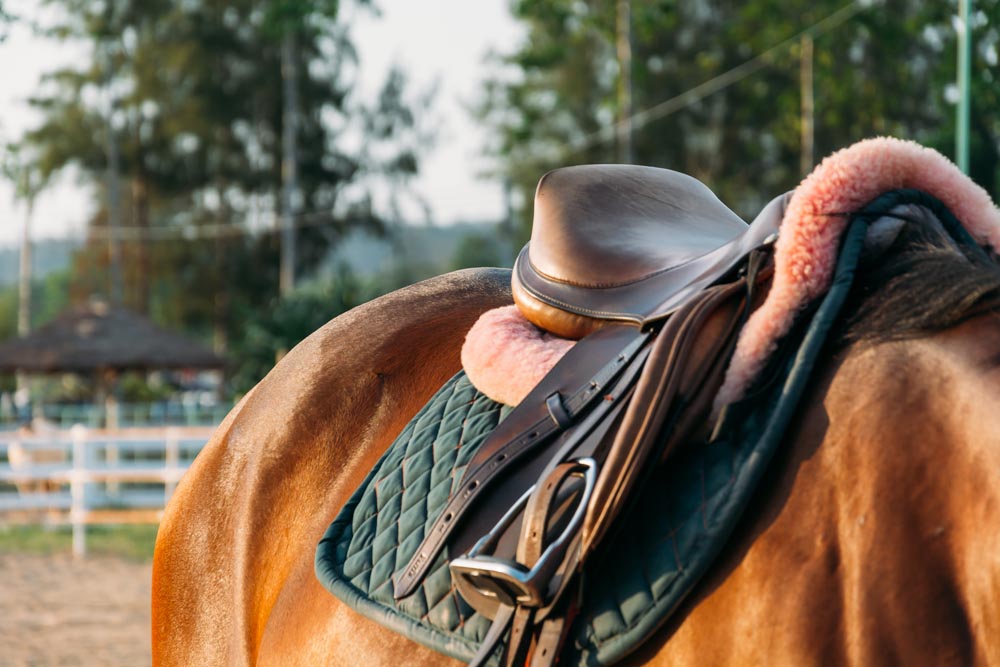 Buy tack secondhand, perform regular maintenance on tack you already own.
Thanks to the internet, it's becoming easier and easier to find horse tack second-hand. There are groups with thousands of members that are dedicated just to buying and selling used tack, from Western to English, and even Driving tack! If you need a piece of tack, look for it used first before buying new. Not only is it better for your pocketbook, but it's also better for the environment, too! Also, most tack stores have a consignment section where you can purchase gently used items from other local horsepeople.
Once you have your tack, be sure to perform regular maintenance on it. Clean your tack regularly to check for signs of wear, leather fatigue, or metal fatigue. Check saddle billets, girths, and bridles for wear. It will be cheaper to keep your tack in good shape with regular cleaning and conditioning than it will be to keep buying new tack. Also, keeping up with tack maintenance will help prevent sudden tack failures that could lead to vet or hospital bills.
Have your horse go barefoot.
If your horse doesn't NEED shoes, he probably shouldn't be wearing shoes. Obviously your circumstances will vary, but it will be much cheaper to just pay for a trim whenever the farrier comes out than having to pay for shoes. As a bonus, the horse can't pull a shoe if they don't have one on, so you won't have to pay the farrier to come back out after you find the left hind shoe out in the muddy paddock two days after it was put on!
Clean and repair your own blankets.
Or, don't blanket your horse at all if they don't need it. Most horses don't need a blanket at all unless they are clipped, old, underweight, or don't grow a good winter coat. So you can save a bundle just not blanketing your horse at all!
But, if you do blanket your horse, you can clean and repair blankets on your own! There is a commercial blanket wash you can purchase that you use in the washing machine. Taking your blankets to the local laundromat will likely be cheaper than having them washed by a professional blanket person in your local area. Just be sure to use only recommended cleaning agents so you don't damage waterproofing on your blankets, or treat them with a waterproofing spray after they've been cleaned.
You can also repair rips and tears either with iron-on patches specifically designed for horse blankets, with patches meant for tents, or by sewing the rips by hand. We've sewn up several rain sheets because Raven is tough on Glory's blankets and like to rip them up, and have even re-attached broken straps on a bellyband of a winter blanket just by sewing it back on with a heavy-duty curved needle and waxed thread.
If your horse blanket does get a rip and you purchased it recently, contact the store you purchased it from or the manufacturer and see if the damage is covered under any sort of warranty. The previously mentioned winter-blanket-with-the-broken-bellyband was brand new and was still covered under the warranty, so we got a refund for the cost of the blanket and bought a new rain sheet (bonus: we got to keep the winter blanket, so after we repaired it we'd gotten two blankets for the price of one!)
Those are some of my tips for keeping horses on a budget. For more ideas, be sure to check out one of my favorite YouTube channels, The Budget Equestrian.
Do you have any money-saving tips for taking care of your horse? Share them in the comments!
Have you seen my merch on Amazon yet?
Birthstone horse shirts are available on Amazon! You can get February-October's designs on a variety of fits and colors, while taking advantage of your Amazon Prime benefits! I got to see one of these shirts in person just yesterday and I am BLOWN AWAY by the quality. The print looks amazing and the shirt itself is high-quality. Definitely recommend getting a shirt for yourself or someone you know who loves horses through my Amazon shop if you want the best feeling shirt ever!
I will be adding more shirts to Amazon as I can, however the way that this program works is different from other t-shirt storefronts I have. With Amazon, you have only so many design "slots", and as you sell more shirts you rank up and get more slots. I am currently on the lowest level and only have 10 design slots, so I can't put up all the months until I open up more slots. This means I have to get more people to buy shirts on Amazon! So if you know someone who would love one of these designs, please share the link with them! I need to sell 7 more shirts before I can get to the next tier, so there's still a ways to go but I know we can do it.

Featured photo created by katemangostar – www.freepik.com
Horse with saddle photo created by topntp26 – www.freepik.com