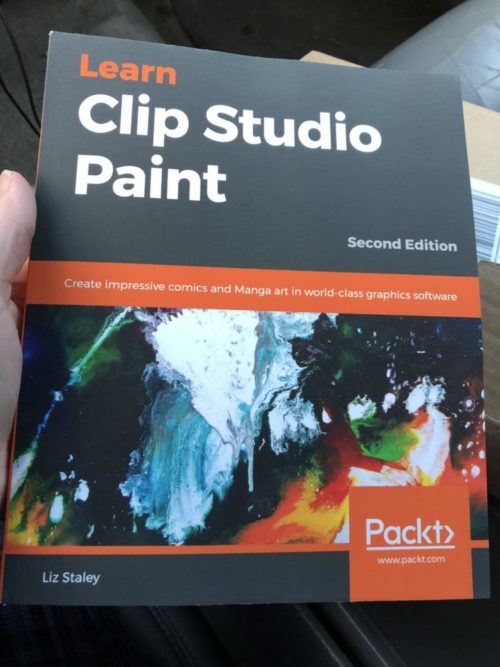 Some of you who only know me through my horse drawings may not know that I am also a writer. I love to write fiction, but in the past few years I have also written several software books for the digital art software "Clip Studio Paint" (formerly known as Manga Studio 5).
Through the latter part of 2018, I worked on the 2nd Edition of "Learn Clip Studio Paint", published by Packt Publishing. I'm very pleased to say that this book was released in late December and is now out! I got my advance copies a few days ago and am so pleased with how they turned out.
Clip Studio Paint is a world-class art software used by over four million creators worldwide to create comics, manga, illustrations, concept art, and more. Unlike most other art software, Clip Studio Paint is created with artists in mind- most specifically comic artists. It has a powerful and highly customizable brush engine, allowing the user to achieve a variety of real-world media looks like watercolor and oil paint in the digital realm. It also includes digital rulers, speech balloon tools, perspective tools to assist in drawing backgrounds, 3D models that can be posed and edited, materials like patterns, images, and screentones, and more.
Learn Clip Studio Paint 2nd Edition is the updated version of "Manga Studio 5 for Beginners", written by Michael Rhodes. After Michael couldn't complete the update because of personal reasons, I was asked to take over writing the book. It was an honor to work on and publish my third software book with Packt Publishing!
Through the course of this book, the reader learns how to select a computer to run CSP, as well as the differences between CSP Pro and CSP EX. They learn how to install the software and navigate the interface, as well as how to create new files. Customizing tools like brushes and other drawing tools are covered, as well as the basics of inking your work. This book is ideal for beginner's and those switching from other graphic software programs.
As of the time of this writing, the e-book version of Learn Clip Studio Paint is on sale for just $5, so snatch it up quick before the sale ends!