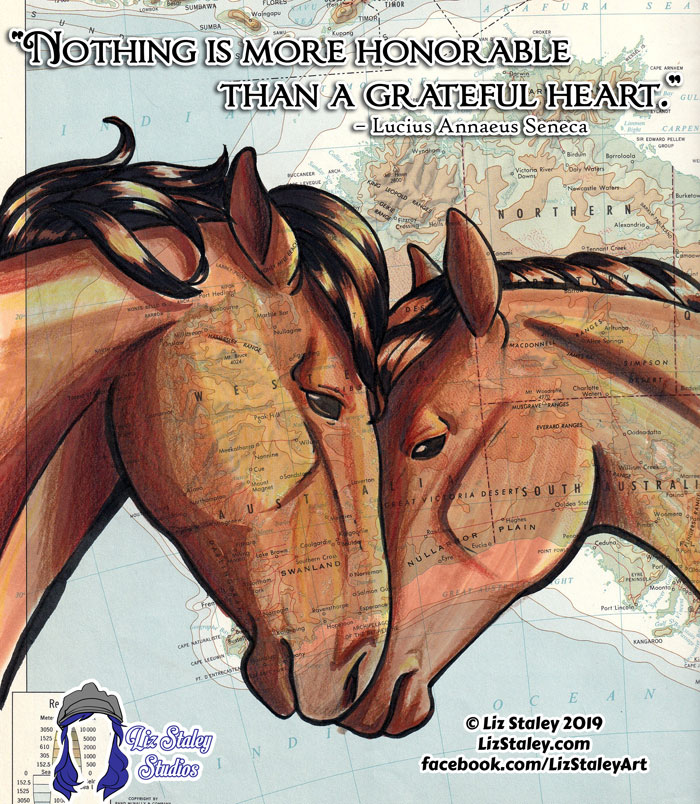 It's hard to believe that we are over halfway through December already! This year has been so crazy that I can barely believe it's not still April, to be honest, much less almost Christmas.
In today's post, I'd like to express gratitude for all the many good things I have to be thankful for in this insane year. Though a lot of bad happened in the past twelve months, a lot of good things happened too, and it's important to recognize that and to say thank you. So, in no particular order, here are the things I am grateful for this year.
I am grateful for every single person who has purchased a print, notecards, ornament, or anything else from me, whether it was in person, at The Foundry in Chambersburg, PA, or from any of my online shops. (Etsy, lizstaley.com, RedBubble, TeePublic, etc) Those sales helped get me through some tough financial times this year!

I am grateful for every commission that I was given this year. There are five people that are going to get original Liz Staley artworks for Christmas and I'm so excited to find out how they like their pieces. I love doing custom work and creating something special that will be cherished for years to come.

I am grateful for my Patrons! I know I've said this a lot, but being a Patron is one of the easiest ways to support my art. Patreon provides me with a monthly income that I can count on while also giving those who support my work perks and exclusive content. Some of my Patreon supporters have been with me for a long time and I appreciate them so much and hope I can continue providing them with content for a long, long time!
I am grateful for the Barefoot Horse Magazine, who featured me in Issue 23 of their publication. I had a blast writing my story for them and putting together the article that ran in their pages. It was such an honor for me, Glory, and my art to be included in the magazine!
I am grateful for my incredible friends from The Foundry Artist Cooperative. I have been there for almost 2 years now and met some amazing artists. One of the best things about the community at The Foundry is that everyone is so helpful and willing to share their expertise. Whenever I have a question or need advice, someone there is willing to help. It's wonderful to be a part of such a phenomenal group of talented people.

I am so, so grateful for my friends who have stood by me and been the most amazing support system this year! I've never been someone who has a lot of friends- usually I have one or two close friends and that's it. This year I have not only made friends with my fellow artists, but I also have a core group of friends who are the most amazing group of ladies I've ever had the pleasure of meeting, and I could not thank them more for being there for me!

I am extremely grateful to everyone who shares my work on Facebook and Twitter. There are those who share nearly everything I post, and I see and appreciate you! Word of mouth is powerful, and things like the Facebook algorithm like engagement more than anything, so all likes, shares, and comments are appreciated because they mean my posts are more visible!

I am grateful for my husband. It was a rough year for both of us, but we couldn't have made it through without teamwork. I hope we can get through 2020 with the same tenacity we showed this year!

I am grateful for my family, especially my mom and dad. When things got the roughest, they really helped out. In the same vein, I am so grateful that when they needed help I was in a position that I could provide it. I couldn't have gotten through the worst parts of this year without my family, so thank you!

And, of course, I am grateful for my horse, Glory, and my best friend's horse, Raven. Glory rekindled my love of drawing horses and set me down the path to the career I'm cultivating right now. Raven has been a serious blessing in my life as well, either by making me laugh or providing a soft neck for me to cry into when I needed it. Big thank you to my hooved therapists!
That is definitely not a comprehensive list of everything I have to be thankful for this year, but It's a pretty good list (I think so, anyway!). What are you grateful for this year? Let me know in the comments!