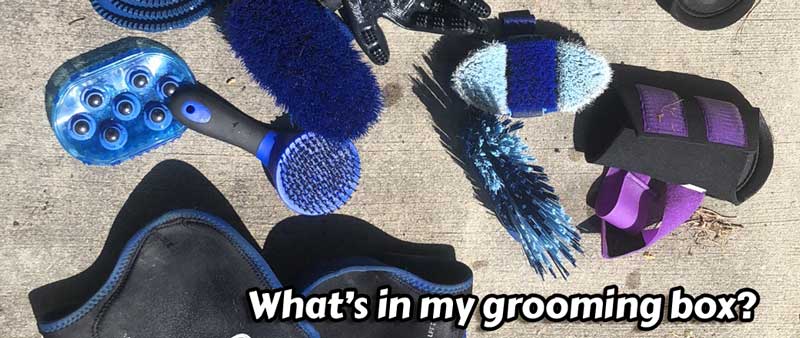 My favorite thing to do with my horse is spending time brushing her. I love to ride, and to drive, but I find that even just going and brushing Glory on a day when I'm not feeling great is enough to boost my mood. There's something magical and satisfying about just spending some quiet time talking to my horse, brushing the mud off her coat and picking her feet, and getting the tangles out of her long tail.
Maybe you're new to horse ownership and don't know what sort of grooming items you should have in your arsenal? It took me a long time to find the tools and products that I really love and that work for me. So here are my favorite grooming tools and products and why I chose them.
I have no affiliation with these products and this is not a sponsored post. This post does include Amazon Affiliate links that provide me with a small commission if you click on one and purchase something, at no extra cost to you!
Sleek-EZ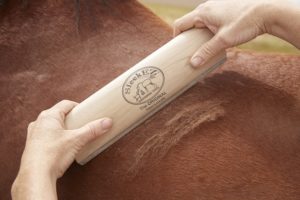 My horse gets a super long winter coat because of her Cushing's. Because of this, I have tried a LOT of shedding aids. The Sleek-EZ and the Grooming Gloves are my favorites out of everything I've tried, but let's concentrate on the Sleek-EZ for a minute. I have the large Sleek-EZ and I absolutely love it. The size is perfect for Glory's body, and it really gets the hair off! Plus it's comfortable to hold too. My current one has lasted me through two shedding seasons already and will soon be on its third, and though it probably could use a new blade it's still going pretty strong. Bonus, I've noticed it's also very good at bringing up dust and dander when I'm using it!
Grooming Gloves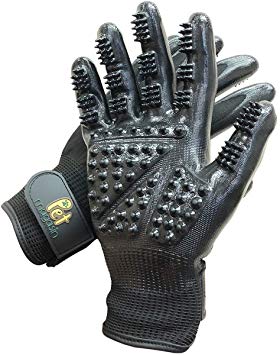 The newest addition to my anti-shedding-season arsenal are a pair of grooming gloves. I didn't think that these things could do as good a job with getting out the winter hair as my Sleek-EZ, but boy, I was wrong! I like to slip these on each hand and go to town, massaging Glory with circular motions and watching the hair come out like crazy! After ten seconds of using them the first time, I was a changed woman. The long winter coat doesn't stand a chance against a good pair of grooming gloves. These gloves have also taken the place of my curry comb for everyday use with getting caked on mud out of Glory's fur. She loves having her neck scratched with them!
Stiff Brush
Any equestrian will tell you that a grooming kit should include a good hard brush. After I use my grooming gloves and/or Sleek-EZ, I use the hard brush on neck, body, and upper legs to get the majority of the dirt, dander, and loose fur off my horse. My hard brush has nylon bristles with a wooden handle.
Flick Brush
After I use the hard brush, I go over where I just brushed with a flick brush– a long-bristled soft brush that really gets into Glory's coat and throws the dust off. I use the brush with a flicking motion, hence the name! Again, this brush isn't anything special, just nylon bristles and a plastic handle.
Flex Finishing Brush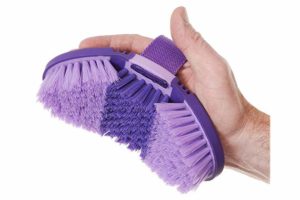 I finish up my body brushing routine by using a short-bristled soft brush on my horse. I go over her face with this same brush, as well as over her body and legs to make sure I've gotten as much dust off as I can. My soft brush is "hinged" so I can cup it in my hand and make it curve, which is why I like it as a face brush as well.
Hoof Pick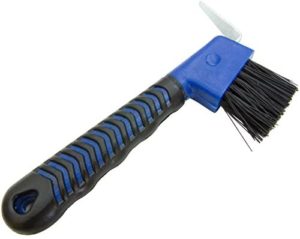 I like my hoof pick to have a plastic handle, a thick metal pick, and a brush. I find the thinner picks with metal handles to be hard to hold, and I like having the brush so that I can clean the flat of the hoof as well as the grooves, without having to use the pointy metal part too much!
Mane and Tail Brush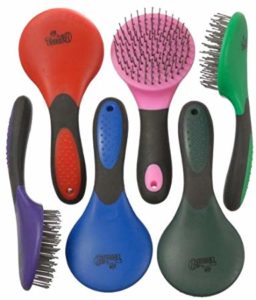 I have been blessed with a horse that has a thick long mane and tail. Though her mane isn't as long as some horses, it's still pretty long, especially up near her poll. Her tail is long and fairly thick, and I love that it falls naturally into pretty little ringlets. But it can also be a giant pain in the rear to brush! I do use a detangling spray/leave in conditioner, which I'll talk about later in this article. But for my brush, I like a nice hefty handle that's comfortable to hold, and bristles with the round plastic bits on the tips. I love the big circular head of my current brush because I feel like it covers more area with each stroke, making the process a little faster.
Thrush Buster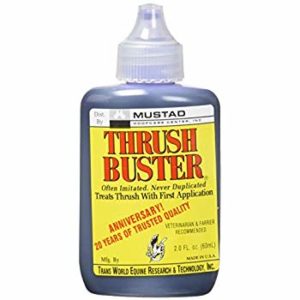 Glory has little feet with deep grooves, which makes them a great place for thrush to grow. She spends 99% of her time in a dry lot that has great drainage, but still gets muddy when we get more than a moderate amount of rain. We keep a bottle of Thrush Buster on hand for when we need it for both the horses! (Though, if we can find something that works as well as this product and won't stain our hands purple every time we use it, we would definitely switch!)
Eqyss Avocado Mist Conditioner Spray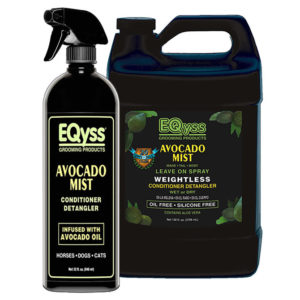 My best friend and I use this on both our horses and we love it! We spray this on manes and tails to get the tangles out. Not only does it condition and get knots out easily, it smells AMAZING. Sometimes their tails are even easy to detangle the next day or two after we use it because it's so good.
Eqyss Equine Spray Marigold Scent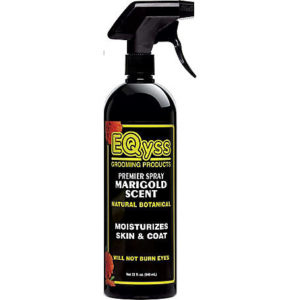 We bought this once when the store was out of the avocado spray, and we don't like it as much as the product above this on the list. However, I do use this every few days on Glory's coat to help with her dry skin. I can brush her for thirty minutes and still have dust coming up because her skin is dry during the winter, and I don't have access to hot water and heat lamps to give her a bath when it's cold! So, after a ride or as a step to a grooming session, I will spray this on her coat, especially her back and flanks where the skin is the driest, and then work it in with my flick brush so it gets down where it needs to be. I've found that doing this a few times a week, along with regular brushing, helps keep the dandruff down until I can give her a proper bath.
And those are all the tools, brushes, and products that I use on a regular basis in my grooming box! I hope this post gives you an idea of my daily routine and maybe helps you out if you're shopping for your first grooming kit. What brushes and products do you use to groom your horse? Let me know in the comments!