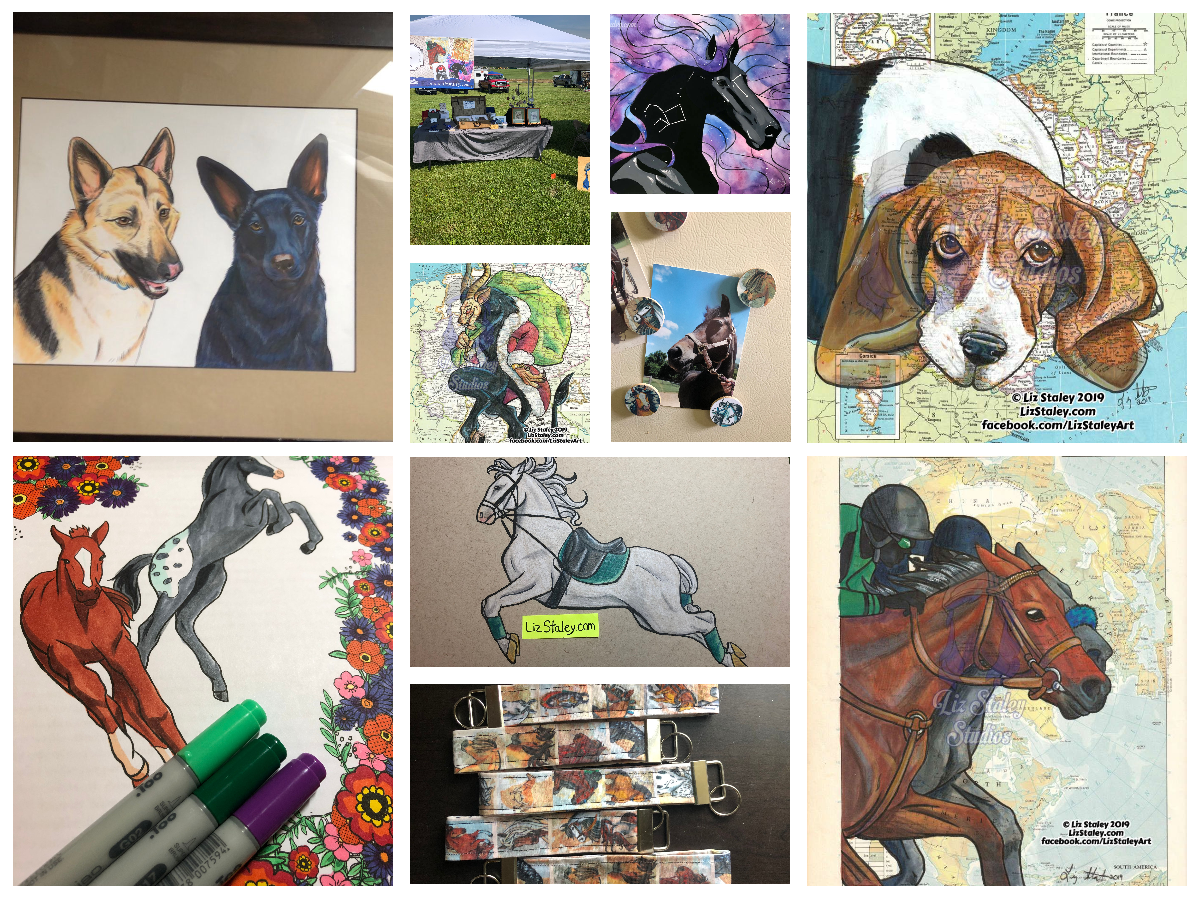 2019 is almost over, and what a crazy year it has been. I've talked about some personal struggles already this year in another blog post, so I'm going to concentrate on reviewing what's happened with Liz Staley Studios this year.
Added the Civil War Cavalry Horses, Vlaamperd, Brumby, Akhal-teke, Thoroughbred, Shetland Pony, Misaki, B'anei, Gypsy Vanner, Andalusian, and American Curly Horse to the Horses Of The World series.
Began the Dogs Of The World series, with the Welsh Corgi, Basset Hound, Shiba Inu, Siberian Husky, and Dalmatian early in the year, and adding the Australian Shepherd in December.

Unicorn and Krampus were added to the map illustrations, hopefully as the first in a series of mythological creature drawings.

Got accepted to Merch By Amazon and began selling exclusive shirt designs through Amazon's marketplace.
Participated in "Equine March" challenge and completed a horse drawing each day of the month of March. These drawings are available as my first digital sketchbook, with artist notes about each prompt and how I chose to interpret them.
Added dogs, cats, birds, and cows to my commission resume.
Had an article published in The Barefoot Horse Magazine about my art and my horse, Glory.
Started selling patterned fabric through Spoonflower.
Began offering many new made-to-order products on Etsy, including coffee mugs, leggings, and backpacks.

Began offering my original pieces for sale on Etsy, too!

Started a coloring club on Patreon that provides exclusive new coloring pages each month.

Attended several local events, including horse shows and market days in neighboring areas.

Completed over a dozen commissioned pieces for satisfied customers of their own pets or pets of loved ones.
I don't feel like I accomplished much, overall, this year. I certainly didn't accomplish some of the goals I'd set at the beginning of the year. But, looking back on the list above, I actually made some big strides this year! I'm hoping to keep up some momentum going into 2020 and to start the new decade off with a bang. My next blog post will be the first of the new year, so have a safe and happy New Year's Eve and I'll see you in the next decade!