I have been to a lot of great events, but one of the best horse events, in my opinion, is the Pennsylvania Horse Expo. Held near the end of February/beginning of March, the Horse Expo is four days of everything horse-related. Because of the date it's scheduled every year, it's also perfectly situated right between my birthday and my best friend's birthday, so we use it as a birthday trip for ourselves each year.
The PA Horse Expo takes up the entirety of the Harrisburg Farm Complex. In addition to tons of vendors in the main hall (the main reason we go, to be honest!), there are workshops, demonstrations, shows, an entire section of the show where breeds are showcased, and more. It's a bit crazy how much there is to see!
We mainly go to shop, because there are so many booths of horse things and there's always something that we need. In the past few years, we've actually started creating a list before the Expo of things that we're looking for, and then we attempt to stick to that list. Last year (2019), we managed to stick closely to the list aside from one pair of alpaca socks that I bought. Side note: those socks are absolutely my favorite socks to wear while riding and if that vendor is there again in 2020, I'm going to stock up on a few more pairs of socks!
We only ever go one day out of the four days that the Horse Expo runs for, but one day is enough if you're just going to look at the vendors and buy a few things. We usually have time to visit all the vendors we want to visit and go take a look down through the Breed Row before we leave. Most days it is VERY crowded and it can be daunting if you're like me and don't like crowds. In 2019, however, we arrived close to opening on Sunday morning and it wasn't nearly as crowded as it normally is, so we were able to move around without being crushed by the crowds. It was a really nice experience and we had great fun taking our time looking around the booths.
Since we were at Horse Expo in a less crowded time this past year, we actually got to talk to more of the vendors, too. Because of this, we spent some time at the Sidesaddle booth, asking questions and getting to try out sitting in a real sidesaddle! It was great to be able to talk to these amazing ladies and inquire about this method of riding. I have a lot of thoughts about Sidesaddle riding, maybe I'll do a blog post about those at some point? (I know we took photos of me sitting in the sidesaddle, but I can't find it. Will add back here if I do find it!)
Vending at the Horse Expo is on my artist bucket list, of course. I know I just said that it's very crowded and I don't particularly like crowds, but I'm actually okay with crowds if I have a table between me and the throng- discovered that from doing lots of conventions over the past few years! I would love to take my art there and connect with new people one of these years. I don't know if I have enough product just yet to fill a booth at Horse Expo, and I'd hate to not have enough stuff. But it is something that I desperately want to do at least once because I think I could really branch out at such a large event.
Plus, why wouldn't I want to spend four days at one of the largest horse events on this coast of the United States? So hopefully, one year, I can be a vendor at the Pennsylvania Horse Expo and see this dream realized. It would be an amazing experience and I'd love to do it some day when I have the money and the product to make it worth it.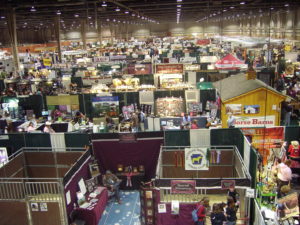 If you're in this area of the country and want to spend a day or two going to workshops, demonstrations, and meeting other horse lovers, I can't recommend the PA Horse Expo enough. Maybe one day, I'll see you there!