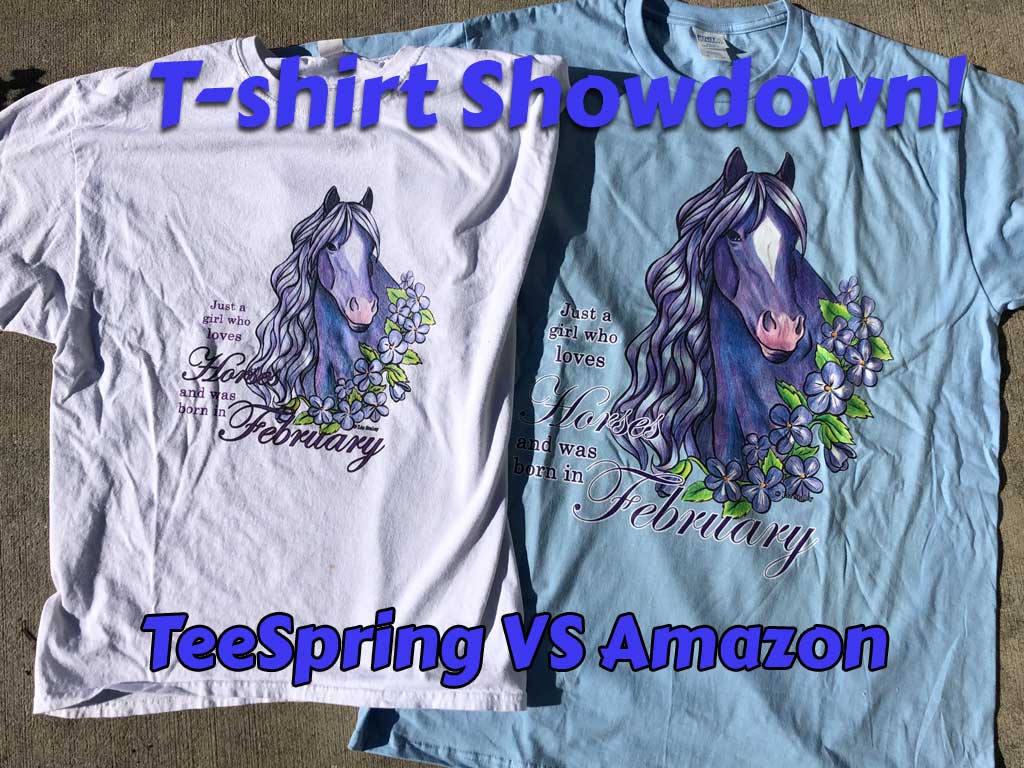 I've been using Print-On-Demand t-shirt services for a while as a way to put my artwork on shirts and other items. I love these sites because they allow me to offer more items to my audience, without me having to rent out a storage unit to keep all those items on-hand. With Print-On-Demand (POD) services, I can offer a wider range of merchandise without having to take the financial risk of having a bunch of products that no one wants. Also, I live in a small apartment with no storage, so mass-producing shirts or other large items would mean I'd need to rent additional space to keep those items. So POD just makes sense from a market testing and also a logistical standpoint for me at this point in time!
Recently I've been making shirt designs of my Birthstone Horses designs and I decided to order two sample shirts: one from TeeSpring, and one from Amazon. Below are my observations of each brand and a comparison of the two shirts.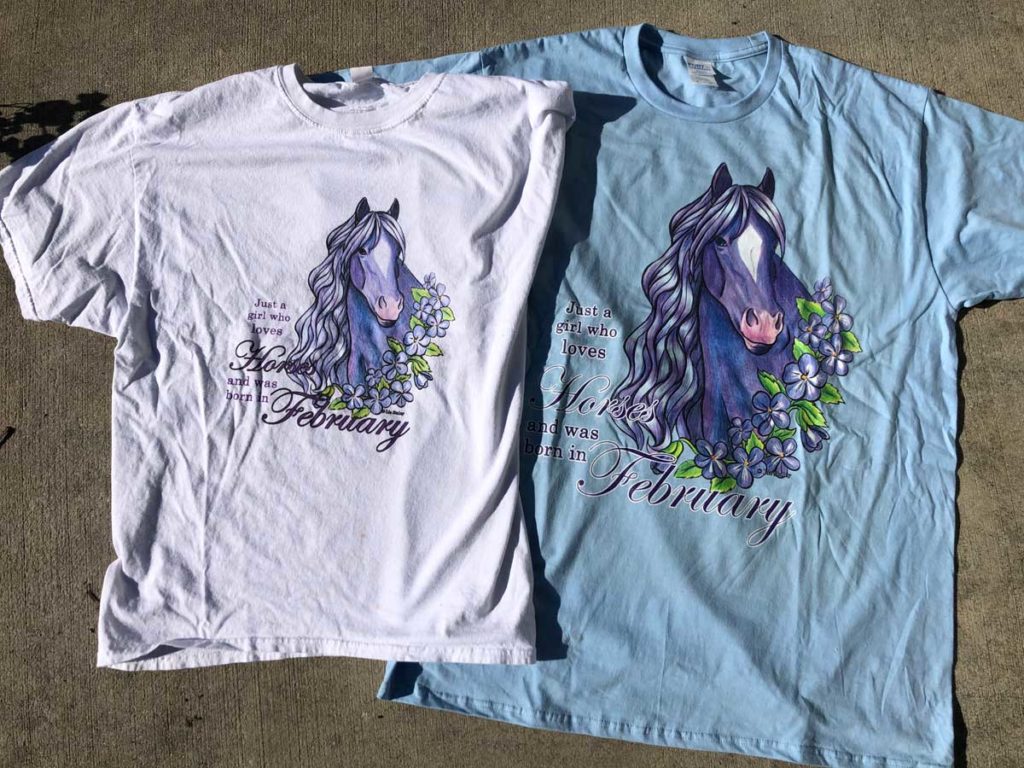 TeeSpring
So, full disclosure, I have had the TeeSpring shirt for a few weeks longer so it's been through the washer and dryer twice and the Amazon one just arrived yesterday. Right away though, there's some big differences. Even though both shirts are an XL, the Amazon shirt is much longer and wider than the TeeSpring one. The print on the Amazon shirt is larger, clearer, and more saturated than the TeeSpring one, as well.
I paid an extra $4 for faster shipping from TeeSpring, but my shirt still took about 3 weeks to arrive.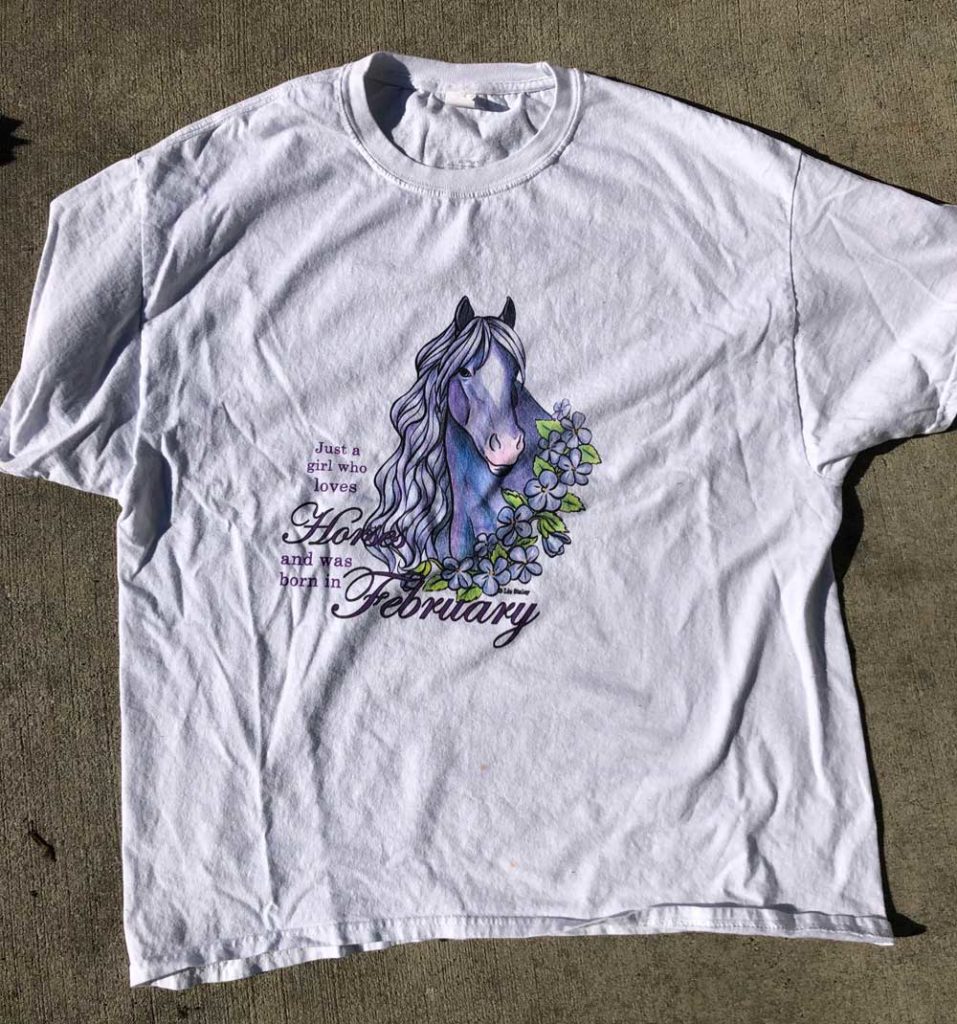 One thing that I noticed as soon as I first got the TeeSpring shirt was that the print was a bit "fuzzy". My copyright information under the Violets in the design is very hard to read in this design. It's also a little bit washed out, despite that I darken the images slightly before submitting them to the t-shirt companies to accommodate this.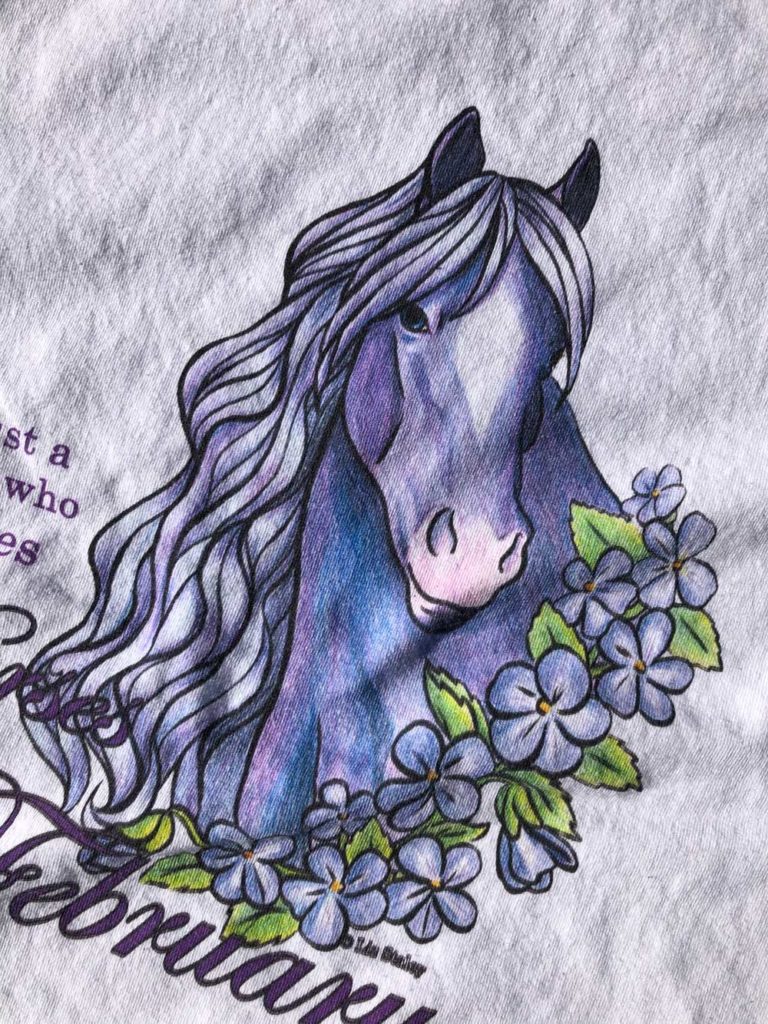 Here's a better image of the TeeSpring print, including the blurry copyright info.
This shirt blank from TeeSpring is Hanes, Made in China. The other color shirts on TeeSpring may be different brands and different countries of origin, but this is what the tag says on the shirt that I got from them.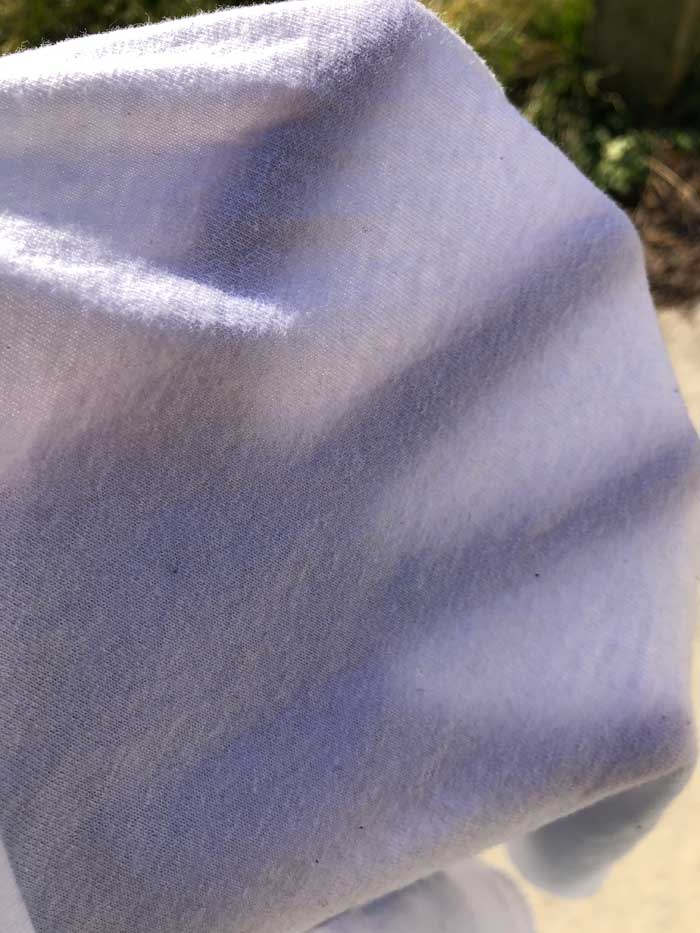 My biggest issue with the TeeSpring shirt is that it's VERY see-through. You can see my hand straight through the fabric. I know that white shirts tend to be a little more sheer than darker colors, but I don't feel like it should be THIS transparent.
Merch By Amazon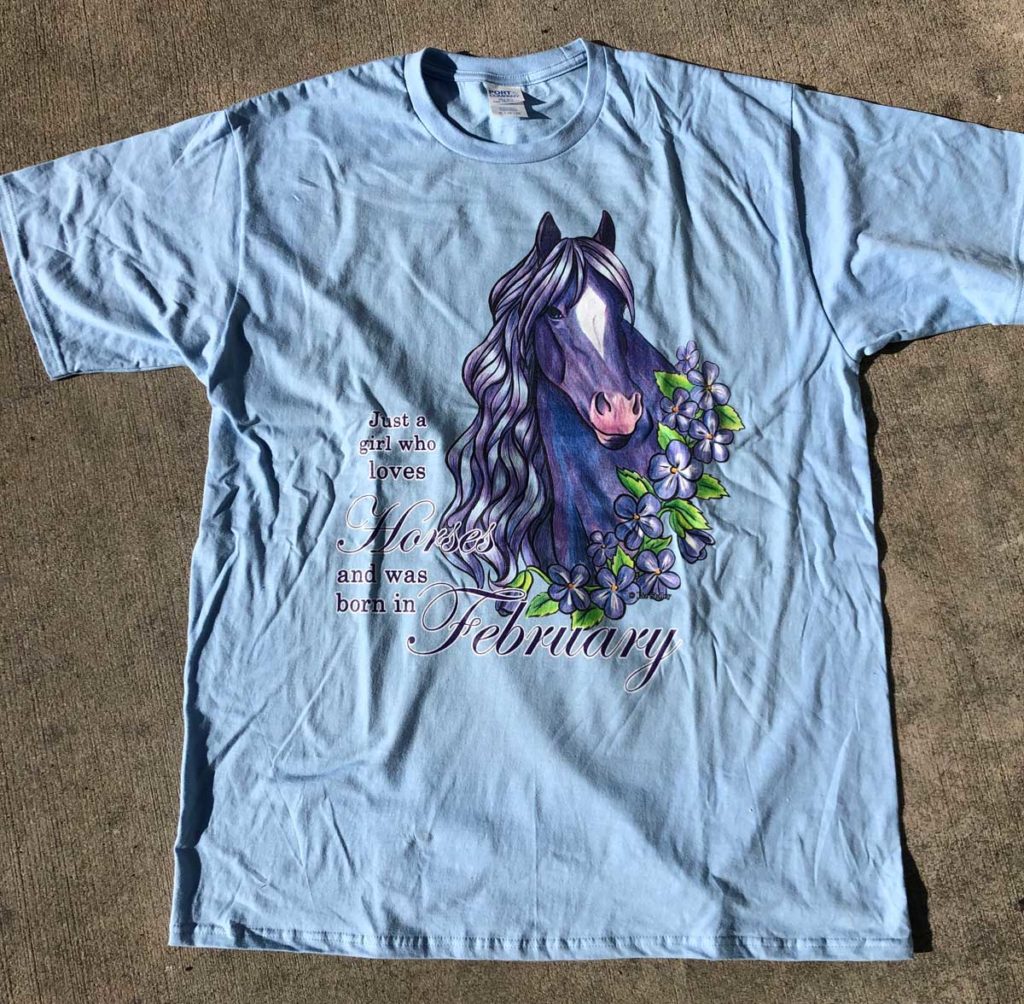 Now on to the Amazon shirt! I chose the light blue color for this design because I thought it made the purple tones in the design really pop, and I totally love that I made that decision. This shirt looks great! I did make some minor changes to this design between the time I ordered the TeeSpring shirt and this one. This version has the copyright information moved slightly, and a white stroke around the text instead of black. As before, this shirt is wider and longer than the TS one, but it also hasn't been washed yet and I can't find any info about if it's a pre-shrunk blank or not. So we'll see how it goes after I wash it!
I have Amazon Prime, so I ordered my shirt on a Sunday and it arrived on Tuesday. If you have Prime benefits, you can get all of my designs with 2-day delivery!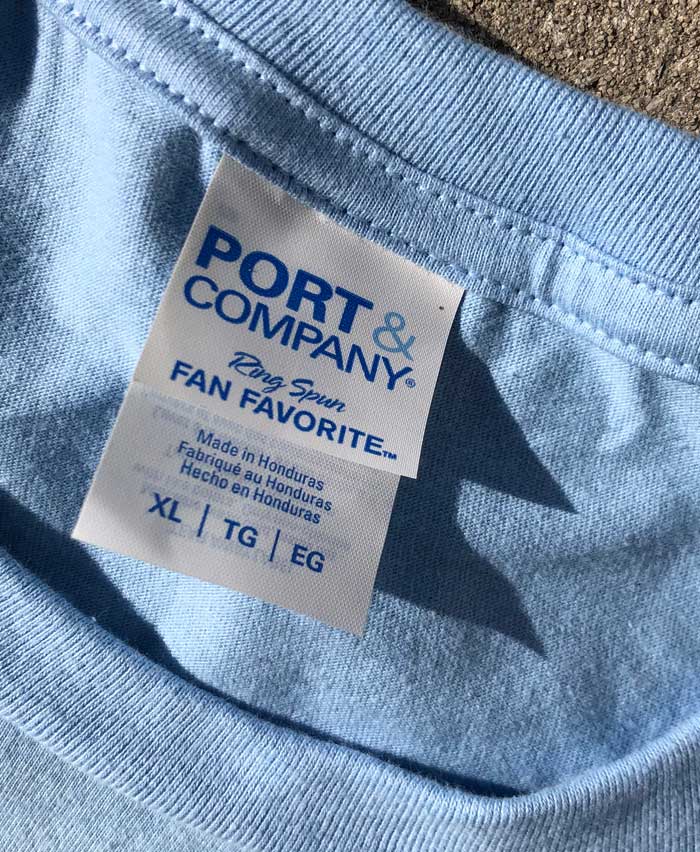 The light blue blank from Amazon is by Port & Company and is made in Honduras. Again, the other colors might be different brands and different countries, but the light blue XL Unisex fit is this company.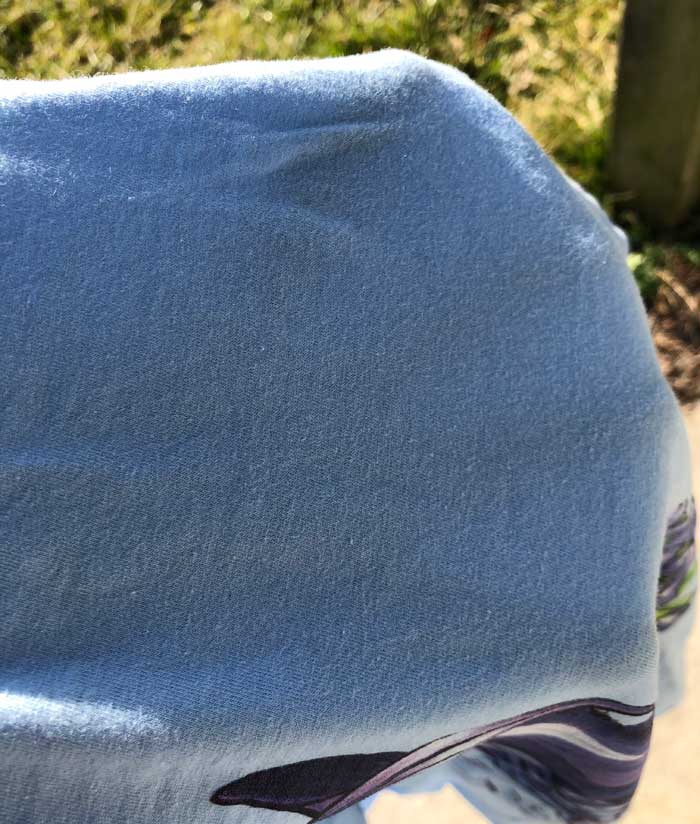 The Amazon shirt is not nearly as sheer as the TeeSpring one! My hand is still slightly visible, but not nearly as much as the white shirt.
Conclusion
Overall, I feel like the shirt blanks from Amazon are higher quality. The design is printed clearer and more true-to-color as well, making the shirt look better. The print is much larger, so if you like shirts with smaller printed areas, go with TeeSpring instead. But if you like a big, bold print, go for the Amazon shirt.
I've seen two of the Amazon shirts in person- the one I photographed for this blog post and one that my best friend ordered, and both of those I thought the actual t-shirt fabric was thicker and felt higher quality than the TeeSpring version.
The big drawback of Amazon is that, at the moment, I am severely limited to how many products and designs I can have. So I only have Unisex, Fitted, and Youth t-shirts available of February, March, April, May, June, July, August, September, and October. On TeeSpring I can make all my Birthstone Horses available and have them on Unisex shirts, fitted shirts, and tank tops at the moment. Once I unlock more space on Amazon, I can offer more designs and increase my product line to include other shirts, including sweatshirts and hoodies.
So, if you like a clearly printed and saturated design on a thicker shirt, go with the Amazon link. If you like a smaller print to the shirt or want a tank top, go to TeeSpring. If you need the shirt for a gift and need it fast, go with Amazon if you have Prime because you can get delivery in two days.
Shirts are comparably priced on both websites, and I get roughly the same commission per-shirt on each one. However, I still need to sell 6 shirts on Amazon in order to be able to upload more designs and products, so if you don't care either way and want my personal recommendation, go with Amazon!