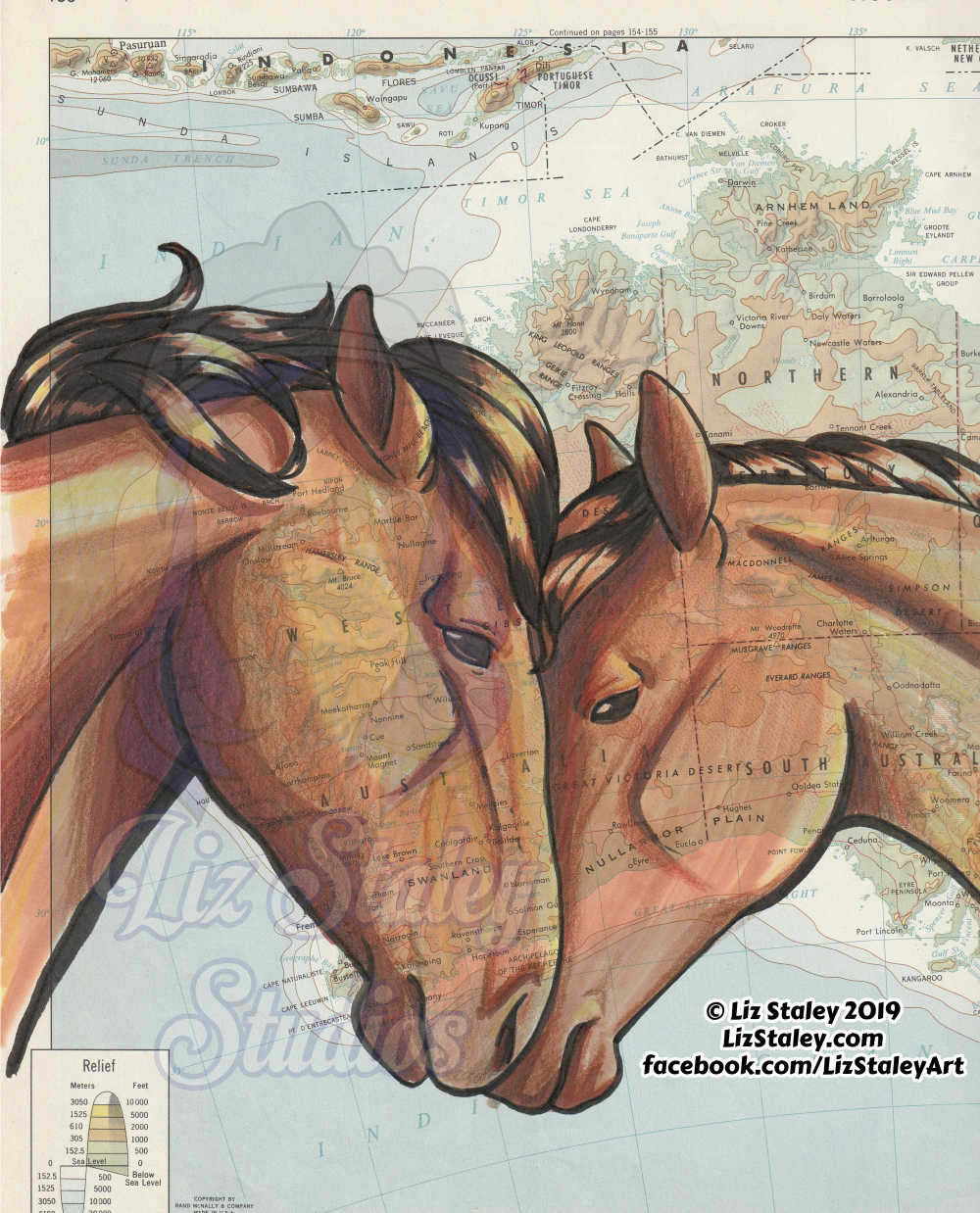 Become a Patron!
Recently, I completed a new horse breed design of the Brumby horse.
A Brumby is a free-roaming wild horse in Australia. They are mostly found in the Australian Alps region and the Northern Territory, with the second largest population in Queensland.
The first recorded use of the term "Brumby" in print was in 1871, and had the connotation of an inferior or worthless animal. Several other origins of the term have also been cited, including the Once A Month magazine suggesting that it came from a South Wales term, "rumbies". The poet Banjo Paterson stated in the introduction of his poem "Brumby's Run" that the word is of an Aboriginal origin and means "Wild Horse". It's derivation is obscure, and may have come from a number of different sources. This includes being named after Sergeant James Brumby, an Aboriginal word "baroomby" which means wild, and the name of the Baramba creek and station in the Queensland district of Burnett.
Brumbies are the descendants of escaped or lost horses that in some cases date back to those belonging to the early European settlers, including the "Capers" from South Africa. Timor ponies from Indonesia, British ponies and draft breeds, and Thoroughbreds and Arabians have likely made up a large amount of the Brumby breed. Horses first arrived in Australia in 1788. They were imported for utility and farm work, for recreational riding, and for racing. Only 200 horses had made their way to Australia by the year 1800. An influx in Thoroughbreds came when horse racing became popular around 1810. By 1820, roughly 3500 horses were living in Australia. This number had increased to 160,000 horses in just thirty years. Because of the long journey by sea from England, Europ, and Asia, only the strongest and heartiest horses could survive. This made for a healthy and strong Australian stock and contributed to their ability to flourish.
The first report of an escaped horse was in 1804. By the 1840's, some horses had escaped from the settled regions of the country. Some likely escaped from improperly installed and repaired fences. But it is believed that many of the feral horses came from horses released into the wild and left to fend for themselves when pastoralists abandoned their settlements. After World War I, the number of unwanted animals who were set free increased due to a decreased demand for horses and an increase in mechanization. Throughout the 20th century, demand was further decreased thanks to the replacement of horses in farming with machines like tractors. This likely increased the population of wild bands of horses even more.
Currently, there are around 400,000 horses roaming the continent of Australia. It is estimated that in non-drought conditions the population increases by 20% each year. Drought conditions and brushfires are natural threats to the horses. Despite their high population numbers, the Brumby horse is considered a moderate pest. The impact on the environment can be detrimental in areas where the horses are allowed to damage vegetation and cause erosion. Because the horses also have cultural and economic value, the management of the Brumby bands is a complex issue.
Today, the Brumby bands live in many places, including some National Parks, such as Alpine National Park in Victoria, Barrington National Park in NSW, and Carnarvon National Park in Queensland. Occasionally they are rounded up and domesticated for use as stock horses, trail horses, show horses, Pony Club mounts, and pleasure horses.
The Brumby horse is at the center of some controversy. Some people regard them as a pest or threat to native ecosystems. Others value them as part of Australia's heritage. Supporters work to prevent inhumane treatment and extermination of the Brumby, and also rehome horses who have been captured. Wild Brumbies are used in Brumby training camps by organisations that promote positive interaction between troubled, high-risk youths. These camps usually last several weeks, allowing youths to train a wild Brumby to become a quiet, willing saddle horse while improving the youths' self-esteem.
You can help these horses at https://www.savethebrumbies.org/
Become a Patron!