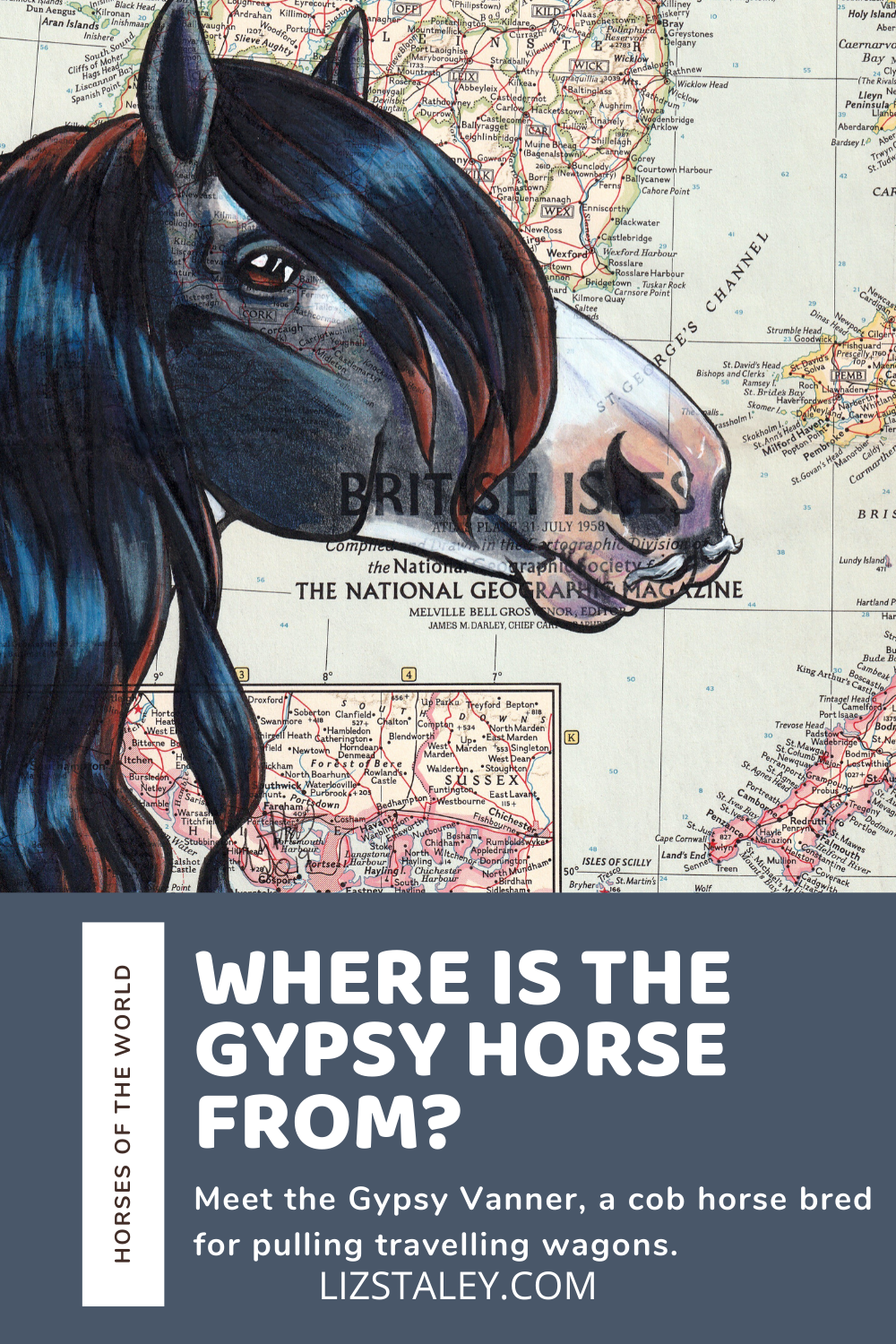 In the Islands of Great Britain and Ireland, a small, solidly-built, and often "piebald" colored horse was developed by the Romanichal Travellers to pull the Vardoes in which they lived and traveled. This horse came to be known as the Gypsy Cob, Irish Cob, Gypsy Horse, or the Gypsy Vanner. The Romanichal people arrived in the British Isles around 1500 AD, but did not start living in the vardo wagons until around 1850. Peak usage of the caravan wagon occurred in the late 19th century and the first two decades of the 20th.
Pulling a vardo takes some unique training and management of horses, and requires a horse with specific characteristics. Vardo horses are trained not to stop until they get to the top of a hill, because otherwise it may not be able to get the wagon started again. Training begins at an early age, with the young horse tied to the offside of the trace ring on the collar of the horse pulling the wagon. To keep a fearful horse from seeing over the top of his blinkers, an old hat is sometimes placed on top of the horse's head. Vardo horses were usually in great body condition due to the combination of exercise, grazing a variety of vegetation, and good quality care. The horse was considered part of the family, and lived in close proximity with its owners.
The Gypsy horse as we know it today began taking shape shortly after World War II. When the British Roma began using animals to pull wagons, they used mules and any unwanted horses of a suitable breed to do the job. Later, these included horses that had fallen out of fashion in mainstream society, including a significant number of Shire horses. Many spotted horses ended up with the Romanichal breeders and were considered a valuable status symbol within the culture. The initial greater height of the Gypsy Vanner breed is derived from the influence of Clydesdale and Shire horses. The Romani people who developed the Gypsy Vanner horse communicated pedigree and breed information orally, so information on the foundation stock is mostly anecdotal.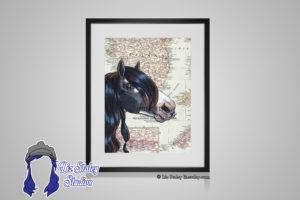 The Gypsy Vanner horse for my Horses Of The World Series is one of the few where I was able to take the reference photo for the drawing myself. I met this Gypsy horse at a local event I was selling my art at and instantly fell in love. I asked permission of the owner to take a photo of the horse and use it as a reference for the image. It was a joy to meet this sweet guy, and to draw his likeness for this illustration!
Do you know someone who loves the Gypsy Vanner horse? Share this article with the buttons below!